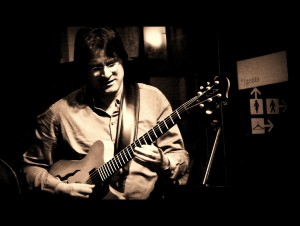 Like many guitar players of his generation Wim Bronnenberg (born 1962) started out playing blues and pop music but after listening to Wes Montgomery's album "Full House" he became a jazz addict. He studied Dutch Literature (and graduated cum laude) in Utrecht before devoting himself to music. At the Royal Conservatory in The Hague,The Netherlands he studied jazz guitar with Peter Nieuwerf and Eef Albers. During his studies he also started to compose music.
In 1991 Pat Metheny came to The Hague to teach at the Royal Conservatory for a whole week. During the final concert Wim had the honour and pleasure to play together with Pat and to perform one of his very first pieces: "Time of the Gypsies". This tune would later appear on "Stream", Wim's first album as a leader.
Wim's first international exposure came during a coast-to-coast tour in Canada with the Dick de Graaf Septet. The band travelled through many European countries doing club gigs and playing at festivals like Jazz Leverkusen, Imatra Finland and the North Sea Jazz.
REVIEWS ABOUT DICK DE GRAAF SEPTET PLAYS THE MUSIC OF JIMI HENDRIX
"… Rivals Hendrix in passion." (Leeuwarder Courant)
"Goose pimples? Absolutely, but mainly because of the guitar playing of Bronnenberg." (De Stentor)
In 2000 together with Italian pianist Alessandro di Liberto, bassist Anton Drukker, drummer Joost Lijbaart and vocalist Anne Thomas, Wim recorded the first CD under his own name, called "Stream". The album consisted of original material mainly. The North Sea Jazz Festival invited the band (with Kris Goessens now at the piano) to play.
REVIEWS ABOUT "STREAM"
"… Bronnenberg has developed a unique style of his own … a top notch guitarist…" (Heaven)
"A name to remember." (NRC Handelsblad)
"… convincing all the way." (Twentse Courant)
"… a unique style" (6 Bears)
The second CD as a leader was called  "Connected". It featured a new band (John Ruocco, Harmen Fraanje, Uli Glaszmann and Hans van Oosterhout) and challenging new repertoire. The band played the Bimhuis (with Tilmar Junius at the piano and Marcel Serierse behind the drums), the North Sea Jazz Festival and many more.
READ JIM HALL'S LETTER
"I LOVE your new CD! Your guitar playing-acoustic and electric are outstanding, but I expected that. I remember hearing you years ago in Utrecht. What really impressed me is your writing-your compositions. That was a delightful surprise. Also the playing of all the others in your group. Congratulations Wim-and keep it up!"  Jim Hall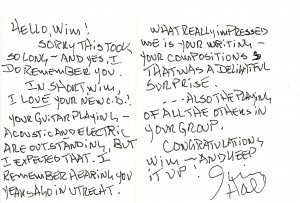 REVIEWS ABOUT "CONNECTED"
Secretly one of the best **** "Bronnenberg's playing, his warm, full tone and the ability to remain fascinating and evocative in prolonged solos is but one of the charms of this lovely yet spirited record…" (De Volkskrant)
"Bringing styles together as is done here shows intelligent craftmansip." (Brabants Dagblad)
CD of the month (April 2006, Dutch national radio) "Catchy themes … lift this admirable production to an international level." (Jazzflits)
 REVIEWS ABOUT "CONNECTED" LIVE
"…Wim Bronnenberg on guitar made a big impression…" (De Volkskrant)
"His improvised lines don't merely sound like embellishments. With a blissful expression he composes melodies that at times have a lasting quality." (BN De Stem
"Like Jesse van Ruller and Martijn van Iterson, Bronnenberg definitely deserves a place on the list of Dutch top guitar players." (Draai om je oren)
Wim Bronnenberg Quintes peaks during Jazz at The Crow "Seldomly in Jazz at the Crow a similar high level was reached." (Draai om je oren)
With vocalist Anne Chris Wim has recorded two albums. Her band played at the North Sea Jazz Festival; as a double bill act Anne and Wim performed in a series of concerts organized by the Jazz Impuls Foundation (amongst other venues at the Concertgebouw with Tom Beek on sax, Cord Heineking double bass and Marcel Serierse behind the drums). Also Anne Chris and Wim have appeared as a duo, playing at the Rijkmuseum Nachtwachtzaal amongst other venues.
REVIEWS ABOUT ANNE CHRIS & WIM AS A DUO
"Anne Chris played in a small setting … normally she performs with a seven piece band, but guitarist Bronnenberg took away any impression they were needed." (Het Parool)
In 2011 Wim was part of a band backing Mike Boddé; his show "Pil" toured in Holland (a.o. Kleine Komedie).
REVIEWS ABOUT "PIL"
" …original and engaging program … Also thanks to an incredibly strong band" (Dagblad van het Noorden)
During a special show with Mike and Thomas in the Concertgebouw Wim played together with the string section of the Orchestra of the Concertgebouw.
Wim has toured in Germany, Austria and Switzerland with musical show "The Cotton Club". He was a band member in Mike Boddé's theater production "Pil".
Wim has appeared live on Radio: Tros session, Jazz a Ouaga, Jazz Studio, Radio 747
TV broadcasts: North Sea Jazz live broadcast, VPRO Jazz for children (with Michiel Borstlap)
Wim has appeared on recordings with:
Rob van Bavel, Tom Beek, Gé Bijvoet, Nitiranjan Biswas, Jasper Blom, Mike Boddé, Ruud Breuls, Eric Calmes, Ad Colen, Anne Chris, Anton Drukker, Ben van den Dungen, Bart Fermie, Harmen Fraanje, Uli Glaszmann, Dick de Graaf, Jos de Haas, Konkie Hallmeyer, Cord Heineking, Ingeborg Helder, Wies Ingwersen, Tilmar Junius, Wim Kegel, Paul van Kessel, Joost Kroon, Alessandro di Liberto, Joost Lijbaart, Wiro Mahieu, Hans Mantel, Jim McNeely, Marcus Olgers, Hans van Oosterhout, Maarten Ornstein, Udo Pannekeet, Tineke Postma, Erik Robaart, John Ruocco, Marcel Serierse, Juraj Stanik, Chris Strik, Yonga Sun, Anne Thomas, Martijn Vink, Hans Vroomans.
Wim has performed on festivals and in clubs as far apart as Germany, Canada, France, Finland, New Zealand, Austria, U.K., Luxembourg, Syriah, Ireland, Switzerland and Burkina Faso.
Wim has performed with many national and international jazz musicians. Amongst them: Jeff Ballard, Joe LaBarbera, Michiel Borstlap, Jasper Blom, Mike leDonne, Ben van den Dungen, Ricardo del Fra, Harmen Fraanje, Hein van de Geyn, Kris Goessens, Dick de Graaf, Billy Hart, Guy Lafitte, Jim McNeely, Pat Metheny, Hod O'Brien, Hans van Oosterhout, Eric Reevis, Toon Roos, John Ruocco, Martijn Vink, Eric Vloeimans, Dave Weckl, John Engels, Tom Beek, Marcel Serierse, Simon Rigter, the String section of the Concertgebouw Orchestra.